What Is Telemedicine?
Telemedicine can be defined as the use of technology (computers, video, phone, messaging) by a medical professional to diagnose and treat patients in a remote location.
"Tele" is a Greek word meaning "distance "and "mederi" is a Latin word meaning "to heal". Time magazine called telemedicine "healing by wire". Although initially considered "futuristic" and "experimental," telemedicine is today a reality and has come to stay. Telemedicine has a variety of applications in patient care, education, research, administration and public health. Worldwide, people living in rural and remote areas struggle to access timely, good-quality specialty medical care. Residents of these areas often have substandard access to specialty healthcare, primarily because specialist physicians are more likely to be located in areas of concentrated urban population. Telemedicine has the potential to bridge this distance and facilitate healthcare in these remote areas.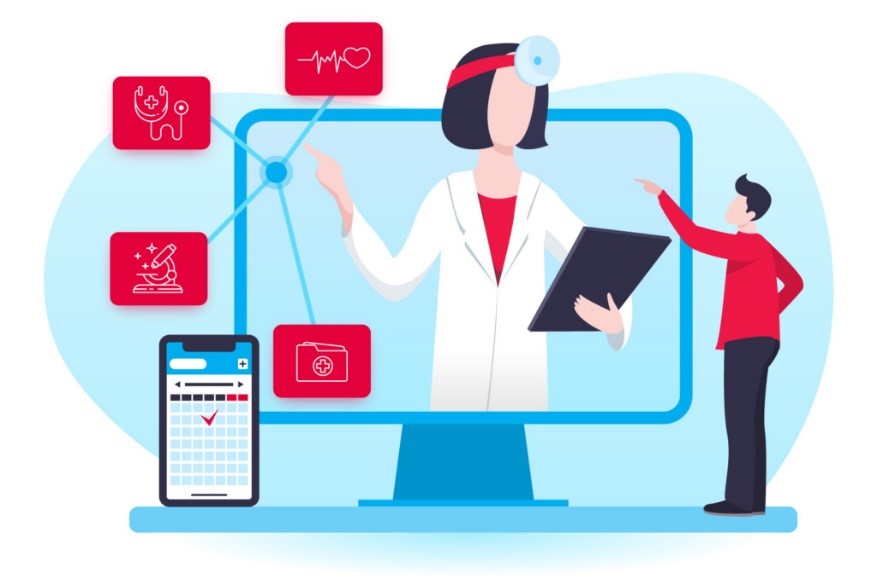 The World Health Organization (WHO) defines Telemedicine as, "The delivery of healthcare services, where distance is a critical factor, by all healthcare professionals using information and communication technologies for the exchange of valid information for diagnosis, treatment and prevention of disease and injuries, research and evaluation and for the continuing education of healthcare providers, all in the interests of advancing the health of individuals and their communities
How It Works:
When thinking about telemedicine, there are two primary methods of deployment in use currently:
Patient Portal
Patients can communicate with their healthcare providers through patient portals to ask questions, set up appointments, and get prescriptions refilled. Such portals also provide the ability to store and securely share medical records, like tab tests and x-rays.
Virtual Appointments
This is another form of telemedicine that is rapidly gaining popularity. This type of meeting uses teleconsultation and lets patients and their doctors speak through phone or video conference. By removing the requirement for an in-office consultation, patients can have an appointment with a doctor without leaving home and receive medical advice much faster. 
Mechanics of the Model
The model is not only limited to teleconsultation but also based on 4 key principles:
Use of technology (multipoint videoconferencing and the internet) to leverage scarce healthcare resources in a tele mentoring modality
Dissemination of clinical best practices across disparate care sites to reduce disparities
Case-based learning, so that learners receive guided practice and support from a multidisciplinary expert team and master issues of complexity
Evaluation of outcomes
In addition to these four key principles, the Uttarakhand Model focuses on an all teach – all consultation and all learn model, whereby the hub and the spoke or primary care clinicians are members of the same team and all consult and learn from each other. The Uttarakhand Model fosters peer-to-peer consultation and mentoring and creates a cross pollination of idea sharing and mentoring among the different spoke sites and is achieved through:
Case based learning,
knowledge networks, and
Learning loops. Knowledge networks consist of regularly scheduled Spoke that bring together expert interdisciplinary specialists and community-based partners.
At the spoke sites, each RMP presents their cases following a prescribed algorithm designed in the system and case presentation form. The multidisciplinary team of experts at the hub site, which usually includes a disease specialist(s), and health expert, treat and discuss the case and share their recommendations. RMPs learn best practices through learning loops in which they are mentored to treat diverse patients in real world situations and practice. Over time, these learning loops create deep knowledge, skills and self-efficacy. Many studies have shown the value of the model in improving RMPs satisfaction, particularly among rural and isolated RMPs, as they feel less isolated and more connected to the community of practice
Telemedicine product suite is a combination of hardware and software tools at the patient end and the doctor end, which are connected through a medical health records database repository. This product suite enables medical consultant to access, detailed Clinical History, Vital parameters of the patient and provide consultation in real time. All the data on the vitals collected is stored in a repository, which can be accessed by the medical consultant for effective treatment
Telemedicine Application Functional Overview
Below are the functional features of Telemedicine Application:
Patient Registration
Book Appointments
Vital Capture
Multipara Device
Chat with doctors
Decision Support System (DSS)
Consult with doctors through audio/video consultations
Plan of Care
e- Prescription
Referral Management
Electronic Medical Records (EMR)
Electronic Health Records (EHR)
Patient Health Records (PHR)
Alert Mechanism
Dashboard and Reporting
Inventory Management
Lab and Pharmacy
OPD services in HUB
Attendance
Asset Management
e-Sanjeevani integration
Benefits for patients
Telemedicine can help treat a range of medical conditions. It is most successful when a person seeks care from a qualified physician and provides clear details about their symptoms.
Some other benefits of telemedicine include:
Patient from PHC to Hub Doctor
Telemedicine makes it easier for people with disabilities to access care. It can also improve access for other populations, including older adults, people who are geographically isolated, and those who are incarcerated.
Preventive care: Telemedicine may make it easier for people to access preventive care that improves their long-term health. This is especially true for people with financial or geographic barriers to quality care. For instance, a 2012 study of people with coronary artery disease found that preventive telemedicine improved health outcomes.
Convenience: Telemedicine allows people to access care in the comfort and privacy of their own home. This may mean that a person does not have to take time off of work.
Slowing the spread of infection: Going to the doctor's office means being around people who may be sick, often in close quarters. This can be particularly dangerous for people with underlying conditions or weak immune systems. Telemedicine eliminates the risk of picking up an infection at the doctor's office.
Benefits for healthcare providers
Healthcare providers who offer telemedicine services may gain several benefits, including:
Less exposure to illness and infections: When providers see patients remotely, they do not have to worry about exposure to any pathogens the patient may carry.
Patient satisfaction: When a patient does not have to travel to the office or wait for care, they may be happier with their provider